Candidates standing in the Surrey constituency of Guildford are split over the issue of building new homes on green belt land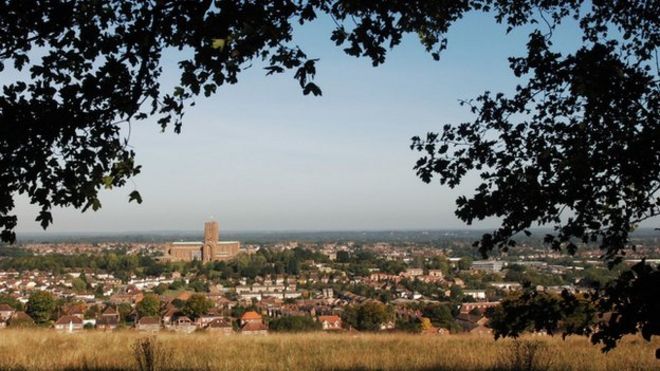 Speaking during a debate hosted by BBC Surrey, Liberal Democrat Kelly-Marie Blundell said brown field sites should be looked at first.
Harry Aldridge, standing for UKIP, said housing needs could not be met without building on green belt land.
Anne Milton, Conservative, advocated the protection of green belt land.
She said: "We have to come up with imaginative solutions."
Susan Parker who is standing for the Guildford Greenbelt Group, said: "There is a housing need which needs to be met. I don't think you need to build on countryside."
She said most people would not be able to afford the sort of homes that would be built on green belt land.
'Over developed'
Richard Wilson, the Labour candidate said; "It's always going to be cheaper for developers to build on the fields outside towns. There isn't an incentive for developers to clean up [brown field] sites."
Green candidate, John Pletts said the South East was "over populated and over developed".
"We need to encourage employment in the north of England," he said.
Two other candidates are standing in the Guildford constituency in the general election – Hugh Morris of the Peace Party and Gerri Smith standing for Cannabis is Safer than Alcohol.
Last January, more than 350 watched a Guildford Borough Council debate after two petitions to save green belt land were discussed.
Campaigners had set up a petition against the building of 821 homes on green belt land at West Horsley, signed by 660 people.
Almost 1,000 people signed a petition against plans for 2,000 new homes on Blackwell and Manor Farms on green belt land near the Hogs Back.

Guildford candidates
Harry Aldridge is standing for UKIP

Kelly-Marie Blundell is standing for the Liberal Democrats

Anne Milton is standing for the Conservatives

John Morris is standing for the Peace Party

Susan Parker is standing for the Guildford Greenbelt Group

John Pletts is standing for the Green Party

Gerri Smyth is standing for Cannabis is Safer than Alcohol

Richard Wilson is standing for Labour