Plans would not be valid without more information about infrastructure
4 January 2016

From the section 

Surrey
Image copyright

Dunsfold Park
Image caption
Plans for a "new Surrey village" on a brown field airfield site cannot be considered by planners in their current form, the local council has said.
Dunsfold Aerodrome submitted its application for 1,800 homes to Waverley Borough Council last month.
Council leader Robert Knowles said it would not be valid without more information about infrastructure.
Dunsfold said its plans included a school and health centre and a package of transport improvements.
A planning application for 2,600 homes on the airfield, which is also home to BBC Top Gear's test track, was turned down in 2008.
The government upheld the decision after a month-long planning appeal the following year.
'Congested road'
Mr Knowles said the roads surrounding the airfield were a very important issue.
"The last application from Dunsfold was turned down by the Secretary of State because of the highways," he said.
"The A281 is very congested. Then there is power supply, sewage, water, schools and doctors – all these things have to be taken into account."
He said Dunsfold had been told there was more work to be done on the application.
"That is something that can be overcome, I would assume, and once it is valid officers will start to work on it," he said.
Dunsfold declined to comment but told BBC Surrey all the information was in its application.
It has said the new homes would be accompanied by new employment space and facilities including a school, health centre and country park as well as transport improvements.
The council included the aerodrome as a possible site for new homes in consultations for its Local Plan, which has yet to be published.
The aerodrome said last year that if homes were built all flying activities would cease.
Dunsfold Aerodrome: Neighbours' views sought on 1,800 homes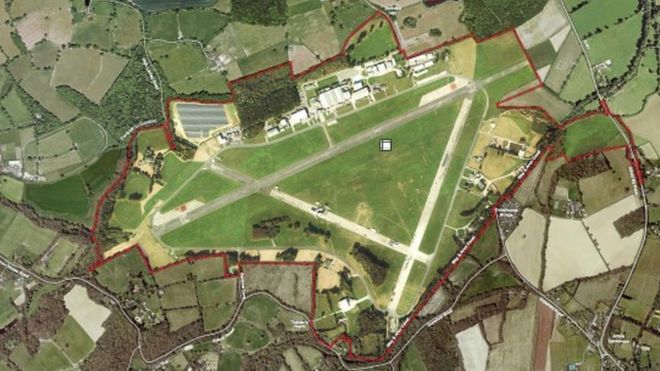 More than 200 neighbours surrounding a Surrey airfield have been asked to comment on new plans to build homes on the site.
Waverley Borough Council said it was consulting with occupants of 220 homes and businesses on the plans for Dunsfold Aerodrome.
Dunsfold submitted a scheme for 1,800 homes last month. If permission is granted flying would come to an end.
They are likely to be considered for the first time by its eastern area planning committee on 9 March.
Neighbours have until 5 February to object or support the plans.
Dunsfold says its vision is to deliver a "new Surrey village", with extra business space, a school, health centre and country park with a package of transport improvements.
The aerodrome is currently home to Dunsfold Business Park, which has more than 100 businesses.