A merger between Epsom Hospital and Ashford and St Peter's was halted in 2012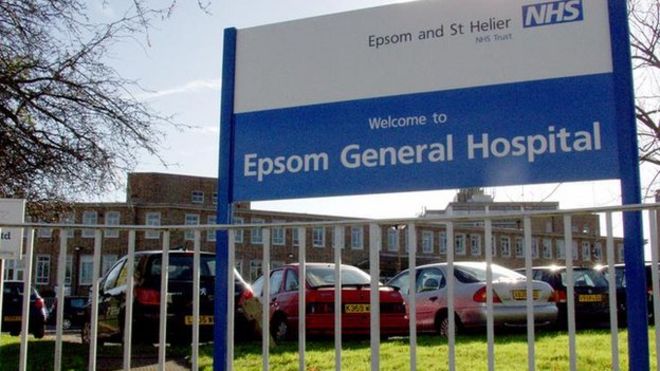 Hospital buildings in Epsom and Sutton are no longer fit for purpose and need rebuilding at a cost of £500m according to the NHS trust that runs them.
Epsom and St Helier University Hospitals trust said patients had to be wheeled across roads between buildings or along underground tunnels.
It said it wanted to secure the investment needed to rebuild and would consult on possible plans.
Campaigner Dave Ash said he took the findings with a pinch of salt.
A report to the trust's board on Friday said the hospital buildings fell far short of what patients should expect from 21st Century facilities.
The St Helier complex in Sutton dates back to the 1930s and more than two thirds of Epsom is over 30 years old.

Patients and staff are being asked what facilities they would like to see in the future and Mr Elkeles said the trust was "very keen" to talk to interested groups about a major buildings review.
The report comes three months after a BBC London reporter overheard management consultants talking on a commuter train about plans to close both hospitals and replace them with a new 800-bed centre.
Mr Elkeles said the revelations were "embarrassing" but there was no secret plan.
"We want to be very open and transparent," he said.
Mr Ash, who was the Sutton and Cheam candidate for the National Health Action Party in the general election, said the report was contradictory.
"It seems to say the hospital (St Helier) is doing really well, meeting all of its targets, but it is no good so we've got to get rid of it," he said.
"A little while ago we had the promise of £219m for a rebuild – that was then rejected.
"I don't know where they are going with this."